UNM Africana Studies Program Hosts Albuquerque's Inaugural Poet Laureate
June 13, 2013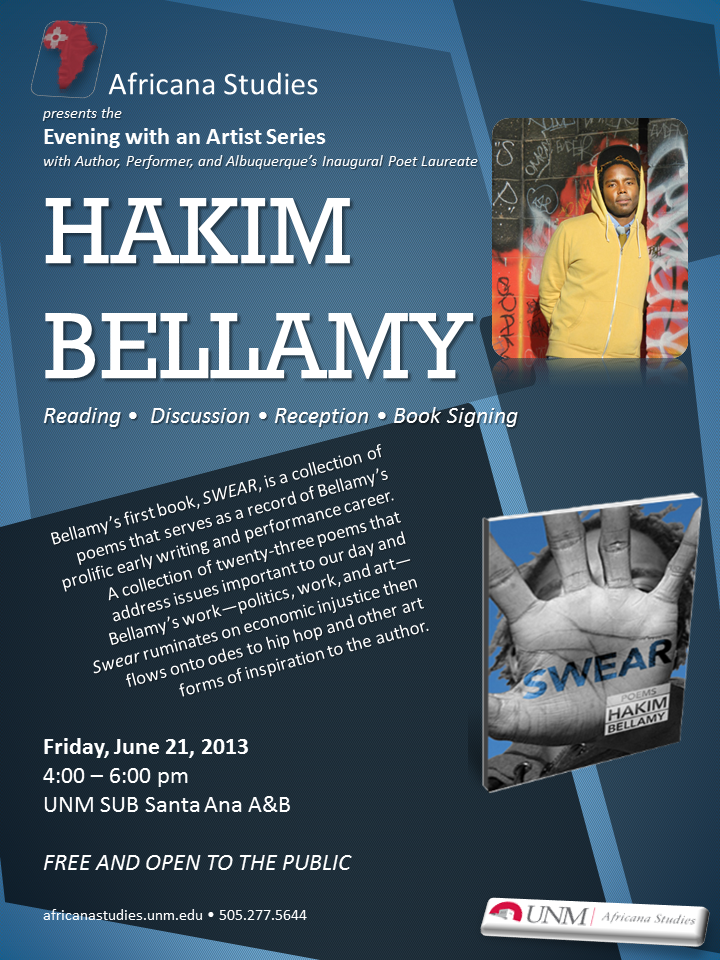 Cross-listed as Afro-American Studies, Bellamy's book of poems can't escape his culture
Hakim Bellamy is no different from any other poet in that he writes what he knows. However, what he knows is being a young Black man in America. For this, he is different from many a poet laureate. On Friday, June 21st from 4pm – 6pm, the University of New Mexico Africana Studies Program will host a book reading and discussion with Bellamy in Student Union Building Santa Ana meeting rooms A & B.
 "As Black writers, we are not made black by what we write about, but by where we write from," says Bellamy. "We write from an experience of color that is more than just color. When I write, I simply echo the discourse already happening within Black America…and within my generation. So, I am looking forward to not only having that discussion on the page, but rather with actual African Americans and students of all colors at UNM."
 Bellamy's first book, SWEAR, is a collection of poems that serves as a record of Bellamy's prolific early writing and performance career. A collection of twenty-three poems that address issues important to our day and Bellamy's work—politics, work, and art—Swear ruminates on economic injustice then flows onto odes to hip hop and other art forms of inspiration to the author.